Unless it's secretly somewhere in the mixed bag of genes I get from my dad's side, I'm probably not Irish, despite my name carrying that merry lilt of the Isles. Lucky for me, (and all of us) you don't need to prove you're of Irish descent to celebrate St. Patrick's Day. You just need to have some green in your wardrobe, a thirst for green food coloured beverages, and maybe an ear for the Dropkick Murphys. Deciding to get into the spirit of things, today's post features not one, but TWO recipes to get you (sham)rockin'.
I want to tell you a little bit about Val, who has been close to my family for years. I only see her on special occasions, Christmas, Thanksgiving etc. but she's an awesome lady. She's 100% herself and takes no prisoners, but cries at everything sentimental. One of my favourite things about Val is her skill with storytelling. I see her so seldom that whenever I do, she always has new experiences spun into stories. While I was making the potato dish for this post, I thought of one she told me quite some time ago. Val grew up in England, and she said that back home, before she went out partying, she would sit down to a heaping plate of mashed potatoes as a buffer between herself and the impending wild evening. Good advice, especially for this weekend. (Although I'm sure eating a plateful of mashed potatoes before I go out drinking might just encourage me to drink every single day.)
Which leads me to our double feature: "Leftover" Mashed Potato Croquettes and a beer cocktail, Poor Man's Black Velvet. These potatoes are "leftover" only because I made too much of them on purpose. In my kitchen there is NO such thing as leftover mash, seriously.
"Leftover" Mashed Potato Croquettes
Makes about 15 croquettes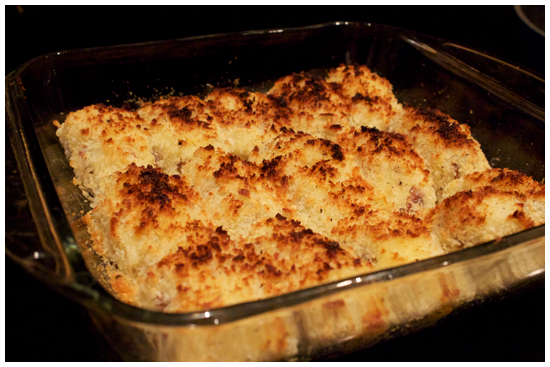 Ingredients
2 1/2 cups leftover mashed potatoes, pre-seasoned*
1 egg, beaten
1 cup old cheddar cheese, shredded
1 small onion, finely chopped
1 cup panko bread crumbs, divided
1/4 cup parmigiano-reggiano, grated small
Salt & Pepper
1. Combine potatoes, egg, cheddar, onion and 1/2 the panko in a bowl, seasoning with salt and pepper. Fold until all of the ingredients are incorporated fully. In a second bowl, combine the remaining panko crumbs and the Parmesan cheese.
2. Preheat the oven to 350 degrees fahrenheit, and grease a square 9x9 baking dish. Time to get messy! Using your hands, form little croquette "sausages" about the length of your thumb and just a little bit thicker. Place them in neat rows in the square baking dish. (It's okay if they're touching!)
3. Bake for 30 minutes. At the end, to get a beautiful colour on top, broil the croquettes on HI for 1-2 minutes. (Check about half way to make sure they don't burn!)
4. Eat. Eat all of them. Seriously, they're addictive and you're going to need the carbs for later anyway.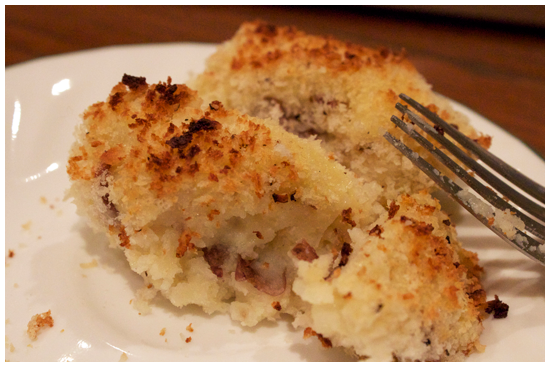 Our second recipe is a Poor Man's Black Velvet, a beer cocktail made with cider and stout beer. Faithful to the holiday celebrations, we're using Guinness. When properly poured, this bevvie is a two-tone, not too sweet, not too strong wonder, and it's incredibly smooth. They're delicious and they look COOL.
(Historical side note: A traditional Black Velvet is made with stout beer and champagne and was created by a bartender at the Brooks Club in London, to mourn the death of Prince Albert, Queen Victoria's consort. Apparently the death of the young prince called for such mourning that "
even the champagne should be black.
") On that cheery note, let's drink.
Poor Man's Black Velvet
Makes 2 cocktails
Ingredients
1 Guinness tallboy

A bottle of sparkling alcoholic cider (NOT Strongbow)
...I could write out the special pouring method or you could WATCH THIS VIDEO I MADE. (Aww yeah!)
1. Pour the cider into a tall drink glass. (Aim for about half way. I favour my drinks a little more Guinness than cider but, you get the idea from the video.)
2. Bend a spoon to a right angle with the concave side up towards you. Then, holding the spoon with one hand close to the level of the cider, pour the Guinness onto the spoon, so that it flows off and gently hits the cider. Raise the spoon with the level of the beer as you go. Stop pouring when the glass is full. Cheers!**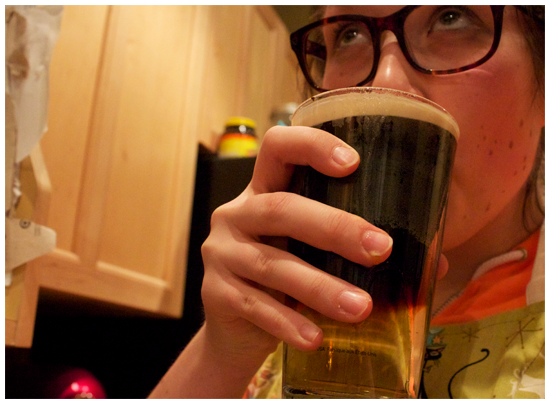 Notes
* by pre-seasoned, I mean, when you make the mashed potatoes, it's good to salt n' butter them before you let them cool in the fridge. Tasteless taters don't make for good croquettes.
** Happy St. Patrick's Day! I know this, because Tyler knows this.