Friends, yesterday was a good day. I do mean 'good' as in, awesome things happened to me, and not 'good' as in I behaved myself and ate like a well balanced human being. I started the day off with an 8AM Skype date with my sister Jill who is overseas living in Australia. We haven't had a chance to talk, screen to screen in a few months, so I was excited to have a little chat with her, even if I had to get up earlier than usual to do it. I soothed my tired 4-hours-of-sleep self with coffee, yogurt and strawberry buttermilk cake. Yes, cake is a breakfast food. If you missed the news bulletin, you're so welcome.
After I finished the two and half hour gab session, I had to get ready to go downtown to meet my friend Jon for lunch. I've already mentioned Jon here once before, in my post about risotto and our foodie friend shenanigans. We had been eyeballing a little French café in downtown Montreal called "Le Paris" which serves French cuisine for a little while. Finally, with Jon accepted into his university program, and my exams polished off, we had the chance to go check it out, and sample some of their fine French fare.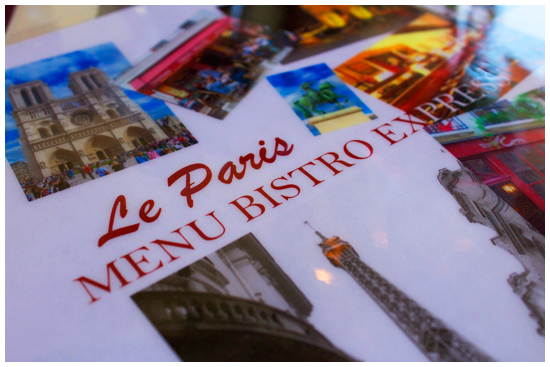 In true Riley style, I got the wrong directions and ended up being about 20 minutes late, which was totally alright because all the running around really worked up my appetite. It was well worth the panic. In addition to a great red wine Jon picked, we settled down to a fantastic lunch. (If you live in Montreal, I highly recommend checking it out. They have a lunch special: 2 apps, 2 entrees, dessert and coffee or tea for 24$.)
We started off with a creamy turnip soup which came with fresh baguette...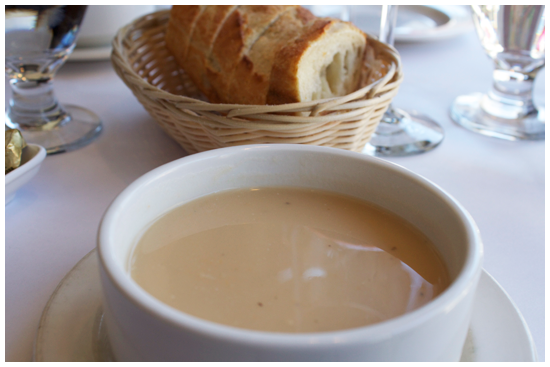 For entrées, Jon and I were also on the same page, ordering boeuf tournedos (filet mignon) mashed potatoes and vegetables on the side. The sauces were amazing, the mash, fluffy without being too heavy. For dessert there was rice pudding made with coconut milk and a pirouline, as well as a good cup of coffee. We even ate like real French people, because it took us over three hours to tuck into the three courses of the meal. (Between my indecision and our conversation, anyway.)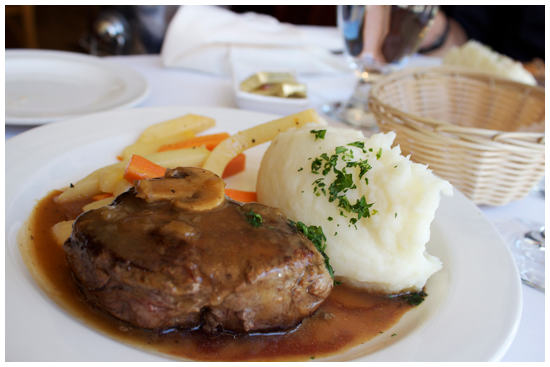 Part II of this adventure involves a little background. Up until recently in Montréal, it was illegal for people to vend food on the streets. Rebekah and I noticed it only because in Toronto there are people selling "street meat" everywhere, but the streets of Montreal are hot dog free. Normally, you think the less hot dogs wandering in gangs in the street, the better, but there are hungry people who disagree with you. So: only about a month ago, the law was repealed.
It just so happened that yesterday, there was a sort of food truck expo taking place at the Olympic Park, a short bus ride from my flat. Jon suggested we go check it out, so we split from Downtown to my place. I changed my shoes, and into something with more stomach room, and we picked up Rebekah, setting out as a party of three to go and stuff our faces, which is exactly what we did.
Rebekah opted for pulled pork from Pas D'Cochon Dans Mon Salon. The bun was soft and chewy. The meat was just saucy enough, with more of a sweet tomato flavour, like a chili rather than smoky with barbecue sauce. It was almost like...a pulled pork sloppy joe.
Dat face requires no further explanation.
Jon went for a buckwheat crepe with smoked salmon from
Landry & Filles.
It was a healthy, fresh bite loaded with flavour. The crepe was thicker, easy to hold and I could easily see myself noshing on this on a hot summer day in the park.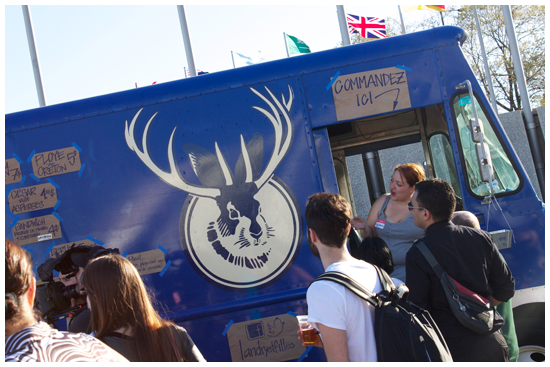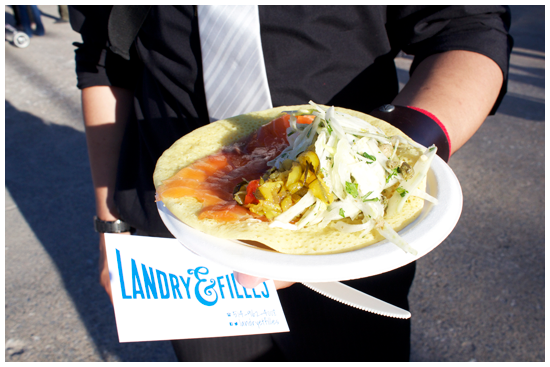 See Jon. See Jon nom. Nom Jon, nom!
Like an eccentric disco moth to a flame, I opted for the brightly coloured
Le Super Truck
and got myself some deep fried macaroni and cheese. Yes, yes you are reading that exactly right. The brain meltingly bad but oh-so-good type of food you only see on TV. Deep fried mac sticks, crunchy at first bite, then velvety and smooth on the inside.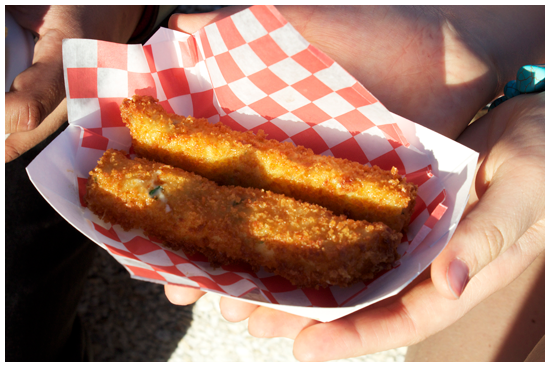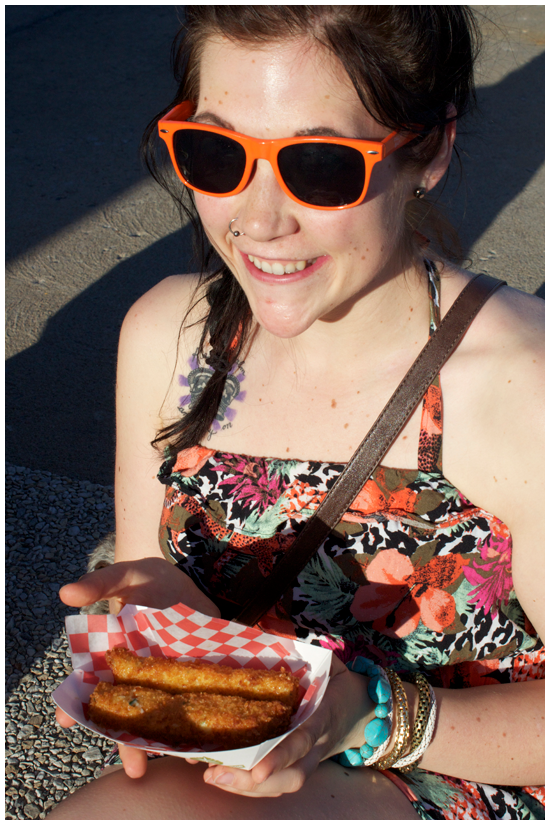 Just when you thought this post wasn't going to get more tasty, we all started screaming and hit the
Pastaga
truck for ice cream sundaes. Rebekah got chocolat, Jon got noix et caramel, and I got fraises et sablés. (Shortbread cookie.) OMG.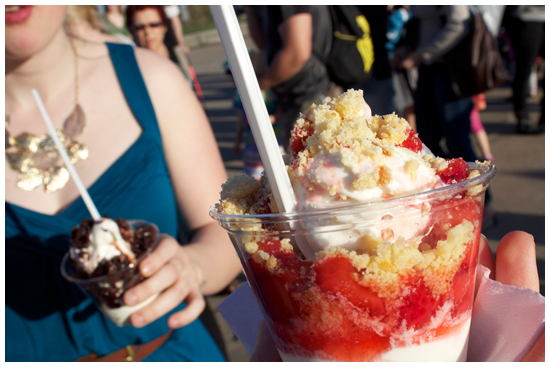 It tasted like summer, and I couldn't have been more happy to shove pretty much all of summer into my smiling face.