First off, I want to thank everyone who took part in the contest! You guys really outdid yourselves with some bite worthy creations. (P.S. I'll be crashing your place of residence ASAP to try them for myself.) I'm so excited to have the turnout that I did; I was expecting maybe one or two grilled pity sandwiches, but y'all busted it up. So, merci for showing up and participating, I hope you guys had as much fun getting creative with this as I had drooling over each idea.
Without further ado, my dear grillers, I present your gallery of competitors.
Note: I've removed all but special instructions and the ingredients lists from the emails, to make the judging as equivalent as possible!
#1. The Beetallmania
Ingredients
: Herbed focaccia flatbread, slow roasted beets, avocado, double cream brie, grainy mustard, sweet onion, smoked salmon, capers, salt & pepper, olive oil
#2. The Super Mario
Ingredients: Rosemary Focaccia, pesto, provolone, prosciutto and mozzarella

Fun fact: This thematic bite sports an Italian flag colour scheme. AMAZING.


#3. The Vegus Cheesus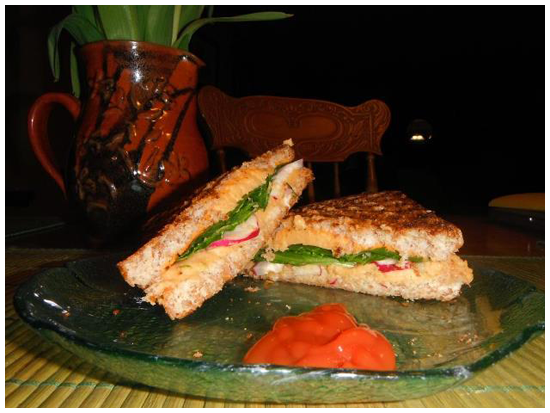 Ingredients: Hempseed bread, homemade vegan cheese slices, radishes, fresh spinach
#4. The Delice Harlequin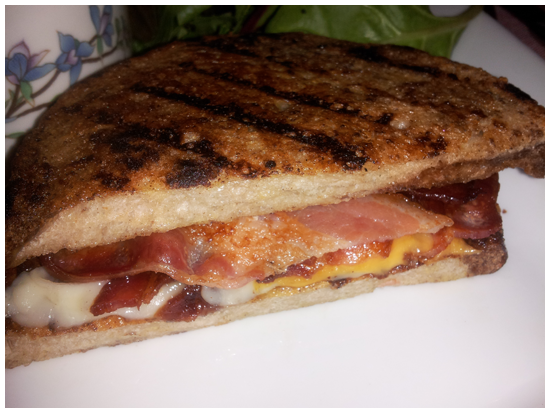 Ingredients: Marble Bread (pumpernickel & rye) made into French toast (eggs, almond breeze, cinnamon), oven baked maple bacon, cheddar, mozzarella, butter

Fun fact: The sandwich's theme revolves around two tones, so the cheeses are each on a different side of the sandwich!


#5. The Beach Please!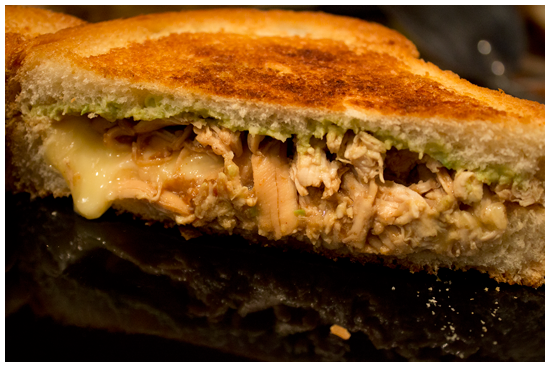 Ingredients: Fresh white bread, marinated chicken (peach jam, soy sauce, lime juice, cayenne, sugar, garlic cloves), Champfleury (brie), Mozzarella cheese, avocado spread (avocado, greek yogurt, lemon juice, chili powder, cinnamon, salt & pepper), butter


#6. The Triskaimaplecius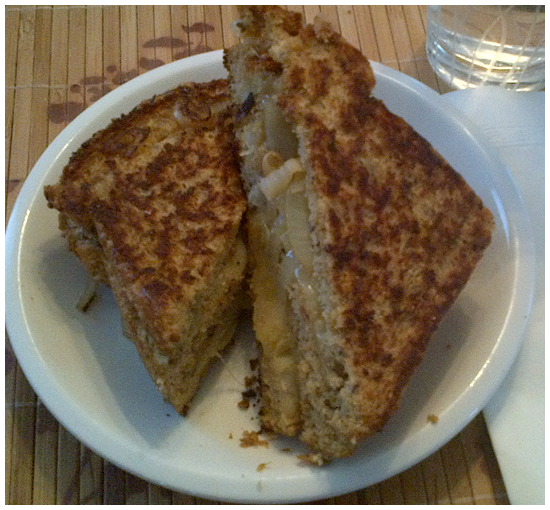 Ingredients: 3 slices 12 grain bread, mozzarella cheese, caramelized onions, maple syrup
Fun fact:
The two outside slices are buttered, the middle one is soaked in maple syrup.
#7. Mozzloaftops!
Ingredients:
White Sandwich Bread, Meatloaf (ground beef, garlic, onions, breadcrumbs, dijon, tomato juice, parsley, eggs, Worcestershire sauce, cayenne pepper), Mozzarella cheese, butter
Fun fact:
This competitor made their bread from scratch!