Well! We're coming into the homestretch of April AKA Grilled Cheese Month, so it only seems fitting that before the month is out, I submit to your rabid anticipation and reveal the winner of the "Hail Cheeses!" Contest.
If you follow me on Twitter, you may have already been spoiled as to this information, BUT, for the sake of posterity (and celebration!) we have the results straight from Cheeses Murphy, the authority on everything cheesy, edible, and perfect right here....
Drum roll please....
The winner is The Beach Please!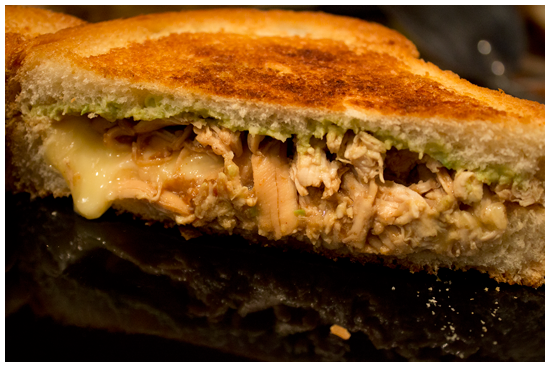 Ingredients: Fresh white bread, marinated chicken (peach jam, soy sauce, lime juice, cayenne, sugar, garlic cloves), Champfleury (brie), Mozzarella cheese, avocado spread (avocado, greek yogurt, lemon juice, chili powder, cinnamon, salt & pepper) & butter.
Insanely delicious, to boot. A big congratulations to Rebekah for this winning sandwich! It may be available at your local Cheeses Murphy soon... And if you don't have one of those, well...friends, that's when it's time to give DIY a cheesy try.
I want to thank you
everyone who sent in sandwiches
, I can't believe the enthusiastic turnout and I'm so excited that you all got to experiment and explore the world of the grilled cheese. You truly made the sandwiches of my dreams, and you created something completely new for yourselves, in a creative and savoury stand off. Bravo!